News
Welcome to the csarchitects news page.
Check out our latest newsletters below and click on the "read more"
link for further information.
If you would like to receive our latest newsletters by email, be sure
to subscribe to our newsletters by filling in the form at the right.
Newsletter Sign-up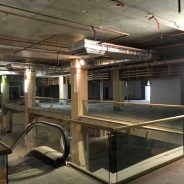 CSArchitects,  with documentation support from Powe Architects, is delivering a major renovation of the retail plaza known as X Galaxy Shopping Mall, at the corner of Elkhorn Ave and Surfers Paradise Boulevard on the Gold Coast. Demolition is well advanced on site and is progressing quickly. X Galaxy plans to convert the centre into an entertainment precinct featuring an open shopping arcade and emporium on the ground floor, including food stalls. The upper floors will be significantly reconfigured to accommodate Palace Cinemas'...
read more