Dude, Where's my Lego? Part 1
Pondering Prefab – Part 1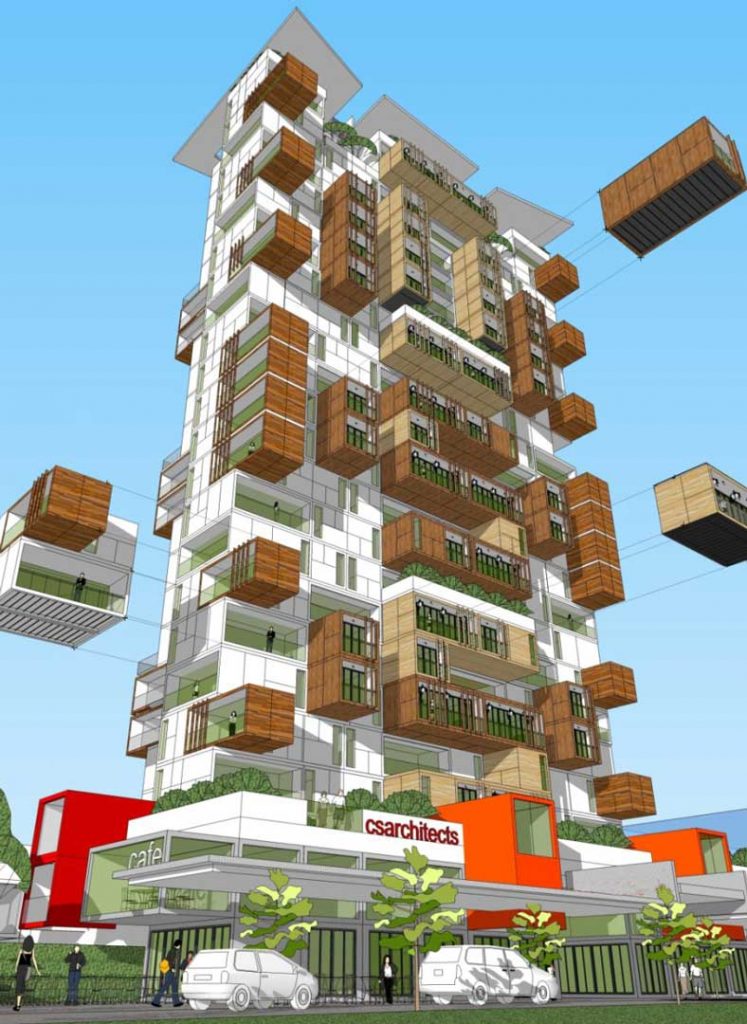 In Part 1 of this this two-part insight article, Christian Skou, Director of CSArchitects, looks back at the origins of Prefabricated Construction and traces its development through Europe the US & Canada.
Dude, Where's my Lego?
As aspiring architects, many of us would have played with building blocks as small children. Some of us may have been lucky enough to have Lego or even Meccano among our favourite building toys. And who hasn't dreamed of using large scale Lego to build real buildings and real projects!
Modular construction, in many ways, really is like using large scale Lego to build real buildings.
What is Modular or Pre-fabricated Construction?
The industry uses many terms: prefabricated or off-site construction, volumetric or modular construction, panelised systems, 'flat pack' systems, kits of parts and even bathroom pods are some of the many products being manufactured to offer different solutions in response to different needs; but all these terms refer to Pre-fabricated Construction.
Prefab Construction is an off-site building method that uses lean manufacturing techniques in a controlled environment to prefabricate single or multi-storey constructions.
A Brief History of Modular
Pre-fabricated modular construction has been used for many years and can be traced back before 1800 in New Zealand and around 1840 in Australia. In 1900 Thomas Edison developed a technique and a machine to manufacture solid in-situ concrete walls, floors and roofs. This was patented in 1919, but was a major failure and not developed any further. The famous German/American architect Walter Gropius showed a keen interest in manufactured prior to World War II, exploring with many concepts until the Nazis closed Bauhaus in 1937, when he moved to the USA.
The idea of pre-fabricated housing was developed further in the early 1940's when Walter Gropius and Konrad Wachsmann delivered a "packaged panelised house system" concept for a wooden house that could easily be assembled from simple standardised elements.
Five untrained workers could assemble the house in just nine hours. It was promoted as 'Build in the morning, move in in the afternoon'. The design delivered an innovative framing system based on a 'wedge connector', an X-shaped, cast-steel mechanism within the wood-framed panels. The wedge connector could be configured in multiple ways and fastened together using only a hammer – no screws, nails or bolts – making house assembly very fast and simple.
Although the concept was systematic and technically accomplished, the Gropius/Wachsmann panelised house system never became an economic success. Rumour has it that Wachsmann could not stop designing and refining this innovative X-connection, so the system was never properly commercialised. Only 500 houses were delivered before the company went bankrupt and production discontinued in 1952. However, the Gropius/Wachsmann developments in off-site construction assisted the UK's pre-fabricated building industry in producing solutions to the housing shortage for soldiers returning after WWII; approximately 156,000 prefabricated homes were erected in UK alone.
This off-site construction method has been refined, incorporating various building and modular codes and expanding rapidly throughout Europe, Canada and USA, with Canadian architects developing design initiatives for the domestic market in 1968-1970.
Prefab my Crib
In 1970, Arne Jacobson designed the system 'Kubeflex', a prefab construction method to deliver affordable homes for low income earners. Jacobson used steel and laminated timber beams for the modular structure with cassette infill panels; very similar to the SIP's – Structural Insulated Panels – that are manufactured today. However, this building system didn't win over the public and the one and only ever built prototype can be seen at the Trapholt Museum in Kolding, Denmark.
The 'Kubeflex' system for one and two storey housing has formed the basis of many prefabricated housing systems being manufactured today, however the manufacturing process for modular housing has also applied automated or semi-automated technology learned from the automobile industry to improve production quality and speed.
In Australia, prefabricated construction represents a comparatively small proportion of delivered buildings – about 3% of the residential housing market – whereas in Scandinavian countries, prefabricated buildings represents 50% to 80% of residential housing.
Stay tuned for Part 2 of this article, where Christian will examine the benefits of Prefabricated Construction compared with Conventional Construction and consider the future of Modular Construction. Imagine designing and building with real LEGO and Meccano and who wouldn't be excited?